8

th 

Annual Acoustic-4-A-Cure in 2023
Thank you Sammy Hagar, Bobby Weir, Michael Anthony, Joan Baez, Guy Fieri Chris Isaak, Vic Johnson, Taj Mahal, Don Was and Nancy Wilson for your commitment to better futures for kids with cancer and their families!
https://datebook.sfchronicle.com/music/joan-baez-acoustic-4-a-cure-hagar-weir-fieri-18095141
Acoustic 4-A-Cure 2021 Powers On! Many thanks to Sammy Hagar and fellow artists for their incredible support!
https://www.forbes.com/sites/stevebaltin/2021/05/22/sammy-hagar-reo-speedwagon-train-and-rick-springfields-perfect-night-raises-over-20000-for-pediatric-cancer-research/?sh=544f569c3ec2

May 22, 2021
Behind The Scenes At Sammy Hagar, REO Speedwagon, Train And Rick Springfield's Perfect Night For Charity
Steve Baltin
Senior Contributor
Arts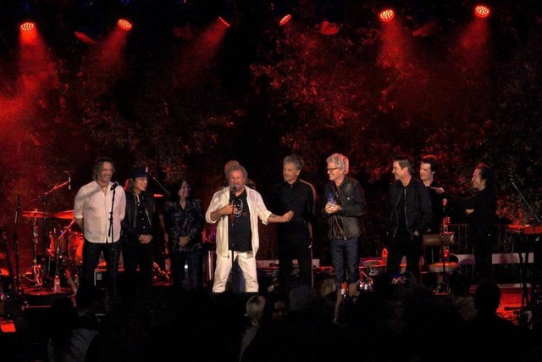 Rick Springfield, Dave Amato, Mona Gnader, Sammy Hagar, David Lauser, Kevin Cronin, Pat Monahan, ... [+] JON LUINI

Of all the intimate formats to see a show there is none more special than the backyard concert. The combination of the intimacy, nature and community makes for a feeling of being privy to something truly unique.
REO Speedwagon frontman Kevin Cronin explains it well. "These [shows] in general are pretty special because anyone who's got a backyard that can fit a bunch of rock and rollers and high rollers, it's usually a pretty special backyard," Cronin says. "Especially when it's a charity event like these. These are people who have worked hard, done well, been very fortunate and are finding excuses to give some money back."
Certainly that was the case last Saturday (May 15) when Cronin joined Rick Springfield and Train at the Sammy Hagar-hosted Acoustic-4-A-Cure deep in the hills of Orange County, California.
Normally held in the Bay Area at the Fillmore, the show had to be moved this year after being cancelled in 2020 because of COVID. "We tried as hard as we could do to do it in San Francisco at the Fillmore, which is a legendary place," Hagar told me. "We missed a year and it broke my heart. So being able to do it in an intimate setting like this, in somebody's yard, is so much better."
For Hagar, who made a 10-year commitment to host this event, which directly pays the $50,000 a year salary to two assistants for UCSF radiation oncologist Jean Nakamura, being back on after the forced year hiatus was incredibly important to him.
So instead of the normal 1,000 people in San Francisco paying $140 a ticket, they did it as a fundraiser, with exceptional food and open bar, charging $1,500 a ticket to 200 people for the opportunity to see four artists who've headlined arenas for up to 20,000 people, play acoustically in the backyard of a gorgeous mansion. The end result raised over $200,000 for the Pediatric Cancer Program at UCSF Benioff Children's Hospital, as well as MusicCares, the Festival of Children Foundation and Jesse Rees Foundation this year..
"This is a perfect way to do it under the pandemic," Hagar said. "[And] I just feel good getting it done."
Under normal circumstances this would be an ideal setting. But for many people experiencing live music for the first time in over a year, this was an absolutely perfect scenario. Intimate (only 200 people), outdoors, spaced out and with a largely vaccinated crowd, the show met every post-COVID criteria to make you feel safe and comfortable watching live music.
So now you are giving back to a good cause in a beautiful, safe setting and seeing multi-platinum artists. Already the night is a major triumph. But also making it so successful is the feeling of community. Before the show Cronin estimated that he and Hagar had done their first charity event together 25 years earlier. "And we've been going ever since," he added.
Drawing on his friends, Hagar made sure to bring that quarter century of friendship to everybody. Before the show all the performers shared one spacious greenroom, hanging out, visiting, sharing stories. And as they got set to take the makeshift stage, Hagar led all the performers in a prayer circle, yelling at everyone hanging around the "backstage," including his longtime publicist, myself and Playing For Change's Paola Mondragon to "get in here." This was a family event with Hagar as the patriarch.
That extended to the stage as well. Springfield was under the weather on this night, with allergies acting up. So Hagar and Cronin came to help him out on "Jessie's Girl," with Cronin playing hype man, holding the mike out to the crowd to lend physical and moral support.
The whole show had that loose, easy feel, leading to a number of highlights. Longtime friends Hagar and Springfield played together on Springfield's "I've Done Everything For You," which Hagar happened to write; then Hagar joined Cronin and REO Speedwagon guitarist Dave Amato on REO's rocking "Roll With The Changes"; Train delivered a raucous cover of Led Zeppelin's "Ramble On" and Hagar and his Wabos closed the night with the Staple Singers' "I'll Take You There."
The final thing that made this such a dream show is the audience's familiarity with the songs. Whether it was REO's "Keep On Loving You," Train's "Hey Soul Sister" or Hagar with his Van Halen smash "Right Now," the show was filled with songs the audience members could sing every word to.
So while Hagar might have been understandably disappointed to miss a year of Acoustic-4-A-Cure he brought it back in the most ideal way possible, raising a lot of money for a great cause, which is what this night is all about to him.
"The background of this whole thing I committed to 10 years to Jean Nakamura, who's doing this incredible research with children who are born with brain tumors that have to be immediately radiated. We're talking about golf ball brain tumors in an infant. And everyone knows radiation is a wonderful thing, but it usually always comes back," he explained. "They have to do it again and again or they have to take it out eventually. So she has this way of reinventing their immune system afterwards and they fight it off. She's got teenagers from infant radiation that have never come back with her immune therapy. So I heard about that and I said, 'What do you need?' She goes, 'Well, I could really use an assistant so that I could spend more time in the laboratory. But we just don't have the budget.' So it goes straight to paying their salary for the year. That's why I got hooked on this. And this is a long-term deal, you can't just do that for one year, so I committed to 10 years, to a million dollars."
Now he is looking to the future of Acoustic-4-A-Cure and how to keep it going. "I want to commit to my 10 years, then I want to find someone in the Bay Area to take it over. Anyone who's willing to step up and do what I do," he says.
When asked about possible successors he has a few big names in mind. "Quite honestly, San Francisco I wish Pat Monahan would take it. He doesn't live there, but he kind of has a residence there. He would be my first choice," he says. "My second choice would probably be Billie Joe Armstrong from Green Day cause he did it the first year and he did such a great job. He really brought something special. James Hetfield was my partner, but Metallica's got their own thing now. James did the first three years. But Bob Weir could take it over too. He's been my co-host a lot."
One thing he showed on this night was that Acoustic-4-A-Cure has a long future ahead in whatever format he wants it to continue.
---
5th Annual Acoustic-4-a-Cure at the Fillmore benefits Pediatric Cancer Research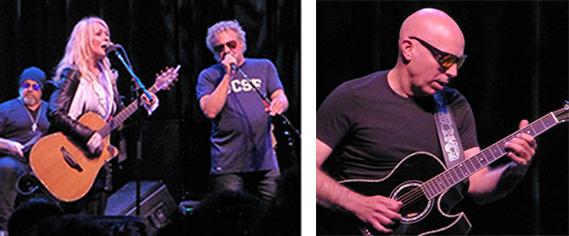 Many thanks to Sammy and Kari Hagar for your commitment to helping kids and their families by creating this incredible event!  Thank you to the artists who made this a great night: Michael Anthony, Jason Bonham, Vic Johnson, Tom Johnston, Chad Kroeger, Lukas Nelson, Joe Satriani, Rick Springfield, Bob Weir and Nancy Wilson of HEART!
Photo credits: Mark Goldstein
 
---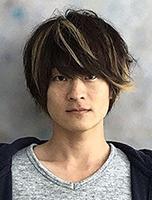 Hiroki Nakaoka, Ph.D. awarded the 2020 Kaigai Gakushin Japan Society for Science Fellowship to investigate bioenergetics-driven mechanisms of tumorigenesis
---

Star-studded concert at the Fillmore Auditorium raises funds that support Dr. Nakamura's
pediatric cancer research and other research and family services at UCSF
Acoustic-4-a-Cure Rocks the Fillmore for Pediatric Cancer
 
---

Dr. Nakamura received a prestigious grant in September 2015
Childhood Cancer Research at UCSF to Transcend Tissue Types With Innovative Grant, #1
Childhood Cancer Research at UCSF to Transcend Tissue Types With Innovative Grant, #2
UCSF researchers lead $10 million research project on pediatric cancer
 
---

New discovery from The Nakamura Laboratory
Genetic Makeup May Make Radiation Riskier for Pediatric Cancer Patients, #1
Genetic Makeup May Make Radiation Riskier for Pediatric Cancer Patients, #2
 
---

Interview in June 2014 with Dr. Nakamura, on PBS video starts @5:55
PBS Newshour Segment on Late Complications in Childhood Cancer Survivors